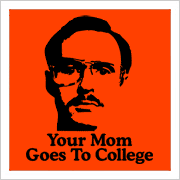 When Secret Agent Man and I were unable to find the size of basketballs we wanted at Walmart, (Yes, basketballs come in different sizes.) we did the next logical thing. We signed me up for college!
I know that it's hard to believe that two and a half years of intensive socializing studying in the early Nineties didn't produce a degree, but it's true.
I've wanted to go back to school ever since all three of my children were in school all day, but I've never been able to fully commit. I can't even say that I am ready now. I wanted to be sure of my future career path, a.k.a, I wanted to know what I was going to be when I grew-up before I committed my time and our families money, again. But, when we couldn't find those illusive 27 inch basketballs, returning to college just seemed to be the right thing to do.